Submitted by
Rebecca Stanisic
on 30 November 2021

As your kids grow older, their gift requests may start to look a lot different than when they were younger. While they once circled all the toys in the holiday catalogues that arrived at the door, now they are sending parents text messages or Google Docs with links to their wish list items.
Your kids may be asking for electronics, video games, and even pieces to build their own computer. Despite having their wish list in your inbox, you may still be looking for additional gift ideas.
While I love video games (challenge me to Mario Kart any day of the week), it's nice to have other options. I've put together a list of electronic gift ideas that my kids have loved, or that I think others might enjoy.
I also want to mention that if you are planning on gifting your child a major electronic, like a smartphone or computer, you'll be interested to know that MediaSmarts has a family contract that you can use with suggested guidelines for the entire family. If you're looking for a way to communicate these family rules, the MediaSmarts printable can be a great way to start.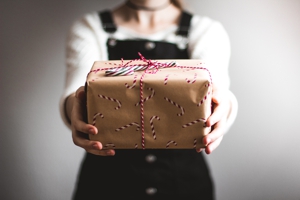 Electronic gifts for preteens and teens
For the One with the Dance Moves
Wireless headphones that go over the ear seem to be popular for listening to music and podcasts at home or when travelling. Bonus: you might even get to witness them enjoying some impromptu solo dance parties. Another good option to consider is a set of gaming compatible headphones with a microphone for when they are online with their friends.
For the Aspiring Guitar Shredder
I'm cheating a bit because this is kind of a video game, but really, it's not exactly the same thing. If you have a musician in the house who has recently taken up the guitar or bass, then the Rocksmith program (for the PC, XBOX or PlayStation) offers the gamification of guitar lessons. They'll follow along to their favourite songs while progressively learning to play the guitar using a fun and interactive format.
For the Future Movie Director
Get creative and wrap up some LEGO, PlayDoh or air-dry clay and then take it to the next level by downloading a stop motion app. One of the apps that my kids have tried is Stop Motion Studio by Cateater. You can also find lots of books on how to create stop motion animation. Sit back and watch your kids become the writer and director of their very own stop motion movie.
For the Artist
There are so many creative solutions for digital artists with programs available to create art, cartoons, graphic novels and much more using a computer or handheld device. If your teen is expressing themselves through digital art, consider getting them a compatible stylus (digital pen) to help them draw and create with even greater detail and precision.
For Everyone
Remember when the kids were little, and we always had to make sure to buy batteries to add to all their moving, loud, noise-making toys? Well, chargers are the new batteries, and they are also a gift for you as much as they are for them. Having an extra charger for their devices will mean they won't keep taking yours. That's a win-win.
Related resources: