Submitted by
Rebecca Stanisic
on 29 June 2023

With the summer upon us, a lot of families will have recently spent time celebrating the end of the school year – and in some cases there were also graduation celebrations! 
Being able to see our kids enjoy these special moments seems particularly poignant given how difficult, and at times isolating, the last few years have been for these students and families. 
A whole cohort of kids recently had grad celebrations as online-only options, if there were anything at all. We know the importance of these milestones and the desire to recognize the hard work of the kids who want to acknowledge their time at school together with friends.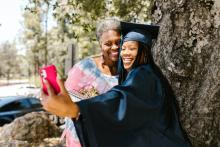 Now that we can return to in-person ceremonies, the excitement is clear at every ceremony and gathering, I think.
Even as we say goodbye to Zoom grads (mostly), that doesn't mean technology hasn't made its way into our grad traditions.
Parents take photos and videos with our smartphones and upload them to share with out-of-town family and friends. Kids use their own phones for candid friend photos to recap their year and capture unique moments.
When I graduated, we didn't have video clips and slideshows from the year playing as a part of our grad. We had music pumped through the gymnasium sure, but now kids are creating slideshows filled with personality and information about themselves allowing parents, teachers and guardians to get a little glimpse into who each graduate is.
We are using technology as a time capsule in a way – a memory keeper complete with notes and dates and time stamps that capture a small moment in time but one that has so much meaning.
This mash up of new technology and old traditions is something I can embrace. I don't always welcome new tech with open arms, but I know that I benefit from being able to have a camera and date stamp all in one spot. When these graduation memories pop up in future years, it will be the small details that I look forward to remembering: What we ate together to celebrate, outfits, and of course it all leads to a walk down memory lane we can all take together.
Congrats to all of you who are celebrating a grad this year. It's a huge milestone! Don't forget to take a photo and keep a bit of a record. Just remember to ask permission from your grad before you post it on your social channels! 
Related resources 
Make sure that you and your kids Think Before You Share those grad photos and videos! 
Graduating from high school often means a lot more independence and responsibility. Send your grad a link to our guide On The Loose to help get them ready for new challenges around school work, money and security, online relationships, and staying healthy while using media.