Submitted by
Rebecca Stanisic
on 21 November 2022

November 21st marks World Television Day, as chosen by the United Nations in 1996.
Naturally, my first reaction is to want to celebrate this day – I love television. TV has been a big part of our lives for a long time, but it has changed a lot since my children (and maybe even yours) were younger. It's certainly changed since I was a kid.
Television used to be my primary source for local news and event coverage, as well as the place where we watched serialised fictional shows that were 'destination TV': specific days of the week and times where you couldn't miss the show (unless you were lucky enough for a family member to hit record on a blank VHS tape.)
However much we enjoy watching shows and news programming, even if we don't necessarily only watch it on, well, a television, I have recently learned that World Television Day isn't about celebrating TV in that way.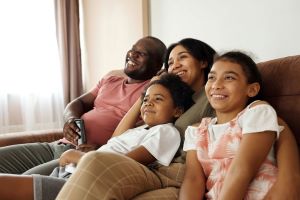 It's about recognizing television's influence on society. It would be hard to argue against the lasting impact television has had on our lives and on information sharing. From news sources to advertising, our connection to this medium is significant. This is what the United Nations website says about why they created this day: "This was done in recognition of the increasing impact television has on the process of decision-making. Television was thus acknowledged as a major tool in informing, channelling and affecting public opinion. Its impact and presence and its influence on world politics could not be denied."
In 1996, when this day was chosen, that was more than clear. How does it hold today? What has changed?
When you are sitting around the dinner table with your kids, or driving them to school this week, ask them their thoughts on television. How do they see it? Maybe talk to them about what it was like 'way back' when you were younger. What news did you watch live when it was breaking and important? How did your family gather around it?
Then you can take the opportunity to chat about how they get their news, or how any of us do these days. Does television still inform in the same way?
World Television Day may be on November 21, but the discussion about its impact and future will continue much longer than that.
Related resources: