According to Consumer Reports magazine, "young children have difficulty distinguishing between advertising and reality in ads, and ads can distort their view of the world."

Research has shown that children between the ages of two and five cannot differentiate between regular TV programming and commercials. Young children are especially vulnerable to misleading advertising and don't begin to understand that advertisements are not always true until they're eight.
According to the Canadian Toy Testing Council, the biggest area of concern with toy ads in Canada is exaggeration. Young children often think a toy actually can do a lot more than it can because of the way toys are portrayed in advertisements.
These concerns have led some jurisdictions to ban all advertising to children. Quebec has banned print and broadcast advertising aimed at kids under thirteen. Sweden has banned advertisements aimed at children under 12 and is lobbying European Union members to adopt similar policies.
Effects of materialism
"Advertising at its best is making people feel that without their product, you're a loser. Kids are very sensitive to that."
Nancy Shalek (former president Grey Advertising)
There are also concerns surrounding the effect excessive materialism can have on the development of children's self-image and values. In her 1997 book on modern family life, The Shelter of Each Other, author Mary Pipher worries that our consumer-saturated culture may be breeding feelings of "narcissism, entitlement and dissatisfaction" in today's kids.
Children's identities shouldn't be defined by their consumer habits; yet that is the main way they see themselves reflected in the media—as consumers, and advertisers are targeting younger and younger children with this message. The marketing of merchandise based on the popular pre-school TV programs Barney and Teletubbies marked the beginning of identifying toddlers as a consumer market. Reporting on this trend, the industry magazine KidsScreen noted that "agencies are cautiously eyeing the zero-to-three year-old demographic—a group that poses tremendous challenges and opportunities, because research has indicated that children are capable of understanding brands at very young ages."
A healthy society raises children to be responsible citizens rather than just consumers. Creating healthy, happy families means spending time together rather than spending money. For tips on promoting a non-commercial family lifestyle, see Dealing with Marketing: What Parents Can Do.
Junk food advertising and nutrition concerns
"By the time they're five, chil­dren have seen an av­er­age of more than 4,000 food com­mer­cials an­nu­al­ly."
UCLA World Science, 2010
In its 2006 brief to the Government of Canada's Standing Committee on Health, the Canadian Paediatric Society noted that most food advertising on children's TV shows is for fast foods, soft drinks, candy and pre-sweetened cereals—while commercials for healthy food make up only 4 per cent of those shown.
Fast food chains spend more than 3 billion dollars a year on advertising, much of it aimed at children. To directly target children, the fast food industry uses more than traditional commercials. Restaurants offer incentives such as playgrounds, contests, clubs, games, and free toys and other merchandise related to movies, TV shows and even sports leagues.
In 1999 child advocates condemned PBS for licensing of Teletubbies merchandise to Burger King and McDonald's, but that hasn't stopped the fast food cross-promotion trend. As author Eric Schlosser explains in his book Fast Food Nation, "America's fast food culture has become indistinguishable from the popular culture of its children."
The result of all this aggressive marketing of fast food, soft drinks and candy to children is a population where considerable concerns have been raised about obesity by health experts. According to the Canadian Childhood Obesity Foundation, 26% of children and youth (1.6 million children) are considered overweight or obese). The connection between food advertising and children's eating habits has been well documented: in 2005 a study by the Center for Science in the Public Interest noted that nine out of 10 food advertisements shown during Saturday morning cartoons were for foods of poor nutritional value. [1] In a 2009 Yale University study, children ages 7 to 11 who watched a half-hour cartoon that included food commercials ate 45 per cent more snack food while watching the show than children who watched the same cartoon with non-food commercials.[2]
Marketing toys based on teen and adult entertainment
Marketing of toys for young children that are based on restricted movies and 'Mature' rated video games is a common industry practice. In its 2009 report to Congress the FTC recommended restricting marketing of PG-13 movies t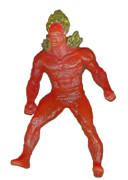 o young children directly and through tie-ins with foods, toys, and other licensed products. [3] At the same time, between March and June 2009 the Campaign for A Commercial Free-Childhood in the United States tracked over 2,700 ads shown on children's television stations for four summer blockbusters that were rated PG-13 (including Transformers: Revenge of the Fallen, Star Trek, Terminator Salvation, and X-Men Origins: Wolverine) and their associated products, which included toys in kids' meals. [4]
In 2010, McDonald's came under fire from the Campaign for a Commercial-Free Childhood for including action figures from the Fantastic Four movie–'The Thing' (that yelled 'It's clobbering time!" when a button on its back was pressed) and "The Human Torch" which which lit up — in its Happy Meals. [5]
---
[1] Center for Science in the Public Interest (2005). "Nine out of 10 Food Advertisements Shown During Saturday Morning Children's Television Programming Are for Foods High in Fat, Sodium, or Added Sugars, or Low in Nutrients." http://www.cspinet.org/new/pdf/saturdaymorningads.pdf
[2] Commonsense Media. "Junk Food Ads and Childhood Obesity." http://www.parentdish.com/2011/02/14/childhood-obesity/
[3] Federal Trade Commission (2009). FTC Renews Call to Entertainment Industry to Curb Marketing of Violent Entertainment to Children. http://www.ftc.gov/opa/2000/09/youthviol.shtm
[4] Campaign for a Commercial-Free Childhood. Transformers Marketing: Still not Transformed.  June 25th 2009. http://commercialfreechildhood.org/pressreleases/pg1309.html
[5] Stone, Kathlyn. "McDonald's violent 'Happy Meal' toy promotion the latest target of parent health advocates." Flesh and Stone. April 8, 2010. http://www.fleshandstone.net/healthandsciencenews/2100.html