Media and Girls
You've Come A Long Way, Baby?
The mass media, especially children's television, provide more positive role models for girls than ever before. Kids shows such as Hilda, Odd Squad and Detention Adventurefeature strong female characters who interact with their male counterparts on an equal footing.
There are an increasing number of strong role models for teens, as well. A 2020 study by the Geena Davis Institute on Gender in Media found that "female characters account for a majority of screen time (58.7%) and speaking time (58.8%) in live action kids' tv shows, which is higher than any other year."[i]
Despite this progress, there is a long way to go, both in the quantity of media representations of woman and in their quality. Stereotyped portrayals start early: an analysis of the channel BabyTV, which is distributed in more than a hundred countries, found that female characters were underrepresented and portrayed as fearful and helpless.[ii] Even the mascots on children's cereals are twice as likely to be male as female, with female mascots almost twice as likely to be portrayed in a gender-stereotyped way.[iii] Despite recent pushback, toys have actually become significantly more gendered than they were decades ago.[iv]
While almost half of human characters in TV aimed at older children are women, when we look at non-human characters – a majority of all characters, given the dominance of animation in children's TV – the numbers are much smaller, with just 32% of animal characters being female. Overall, including both human and non-human characters, 35% are female.[v] Both human and non-human female characters are frequently stereotyped: "girls [on TV are] often blond and presented as members of a team. If they were leaders, they tended to be red-haired." This confirms that a female character's appearance depicts what their personality will be like on the show.[vi] This is true of children's TV around the world, with girls and women frequently portrayed as motivated primarily by love and romance and as less independent than boys[vii] and more likely to use magic to solve problems than science or technology.[viii]
Children's books, in many ways, are no better. There, too, the percentage of female human characters (40%) only looks good by comparison to the number of female non-human characters (25%). Women and girls in children's books are also half as likely as boys or men to have leading roles.[ix] Science books for children feature three men for every woman in photographs and when women do appear they are often treated like the astronaut whose training, qualifications and effort are all dismissed with the caption "in zero G, every day is a bad hair day."[x]
Advertising has long been seen as the medium most prone to stereotyping. While there are some indications that this is changing, nearly half of Millennial parents see ads as an obstacle to raising their children without stereotypes.[xi] Sexist and stereotyped ads, which were once confined to TV shows or magazines aimed at women and girls, can now follow them across the internet thanks to data profiling and behavioral advertising. Targeted ads of this kind are even moving to the real world. Thanks to facial recognition, digital billboards can now show men ads for pizza and ads for salad to women.[xii]
Though women are active participants in the online world, they are often hard to find in search results. A 2018 study of job-related image searches found that women were underrepresented in over half of those searches relative to their actual participation in those jobs, in some case by up to 33%.[xiii]
Even in user-created media like Wikipedia, women are typically underrepresented. A survey of English-language Wikipedia found that fewer than one in five of biography articles were about women;[xiv] physicist Donna Strickland did not have a page at the time she won the Nobel Prize in 2018.[xv] Women's pages are also more likely to link to men's pages than vice-versa and more likely to have information about their children or partners.[xvi]
Media, Self-Esteem and Girls' Identities
Media representations have a strong influence on how girls see themselves and how they imagine their futures. Positive female role models in media can make girls and women more confident, more ambitious and even help them escape abusive relationships;[xvii] seeing female characters in powerful roles, such as superheroes or science-fiction protagonists, can "help bridge the confidence gap for girls, making them feel strong, brave, confident, inspired, positive and motivated."[xviii]
Unfortunately, while the number of positively portrayed female characters in children's television is increasing, things change significantly after kids turn thirteen: girls aged 14-19 are almost twice as likely as those aged 10-13 to see male characters in media make sexual comments or jokes about female characters (47% of those aged 14-19 compared to 29% of those aged 10-13), more likely to say they are treated unfairly compared to boys on social media (37% versus 20%), more likely to see female characters whose looks are more important than their intelligence or abilities (57% versus 45%) and more likely to see images of women and girls with unrealistic bodies (71% versus 56%).[xix] Female characters in film are often sexualized even before the role is cast, with screenplays typically describing them in terms such as "a freckled hottie," "gorgeous blond, big breasted, great body" and "cute, but dumb as a bunny."[xx]
Girls are more conscious that boys of the influence media has on them: one study found that 75% of girls consider themselves to be "very or extremely influenced by TV and movies when it comes to how they look," compared to 45% for boys.[xxi] For more on this topic, see Body Image - Girls.
Research indicates that mixed messages from media and multimedia companies, such as Disney, can make it difficult for girls to negotiate the transition to adulthood.[xxii] While characters such as Moana and Brave's Merida are strong and autonomous characters within their own films, in merchandising they blend in with the other, more passive Disney princesses. Similarly, stereotyping and representation can have a long-term impact on girls' careers. Sexist ads for video games have been linked to a decline in women graduating from computer science programs (from 37% of graduates in 1984 to 18% in 2016).[xxiii]
More positive portrayals have an impact, too. In one recent study, two-thirds of women working in STEM fields cited watching the '90s series The X-Files, featuring the cool and competent scientist Dana Scully, as a reason for their choice of career.[xxiv] Efforts to improve representation continue: a 2018 study of young children found that half of those who aspired to STEM careers were girls, with a quarter of all respondents saying they had been inspired by cartoon veterinarian Doc McStuffins.[xxv]
Sexualization of Young Girls
In addition to being underrepresented, women are equally misrepresented: the hypersexualization of very young girls, most notably in fashion and advertising, is a disturbing trend given that these stereotypes make up most of the representations of themselves which girls and women see in the media. The pressures on girls are exacerbated by the media's increasing tendency to portray young girls, or young women who appear to be children, in sexual ways. Camera angles (where the model is often looking up, presumably at a taller man), averted eyes, wounded facial expressions and vulnerable poses mimic the visual images common in pornographic media. But kids don't have to see fashion ads to be exposed to sexualized portrayals of girls and women – sexualized depictions of girls have been increasingly frequent in teen-focused magazines such as Seventeen and Girls' Life.[xxvi] Even in children's TV shows, more than a third of characters have signs of sexualization such as long eyelashes, full lips and suggestive clothing, with female characters twice as likely to be sexualized[xxvii] and three times more likely to be shown in revealing clothing or partially nude.[xxviii]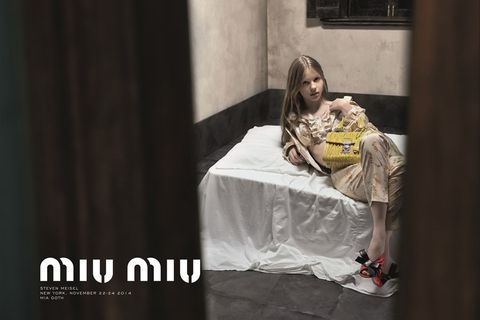 Though model Mia Goth was twenty-two when this ad was made in 2015, she appears to be much younger and is highly sexualized.
These sexualized portrayals have an impact on both girls and boys. Girls exposed to these images can suffer from reduced self-confidence, disordered eating and a narrowed sense of their sexual identities,[xxix] as well as a more negative view of their own gender.[xxx] Both boys and girls can be influenced by media to believe in "sexual scripts" that require men to be aggressive and unemotional and girls to be sexually attractive but not actively sexual – conquests or prizes for men.[xxxi]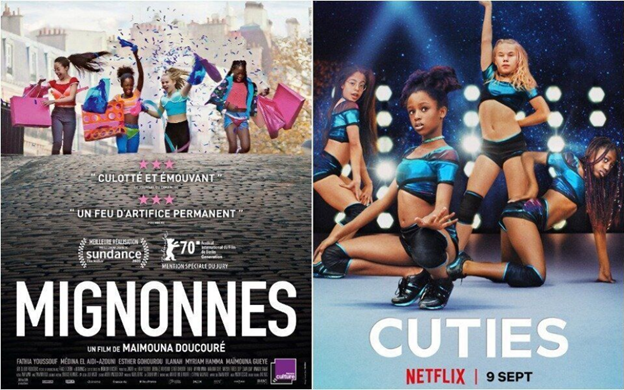 A comparison of ads for the French film Mignonnes and its English translation
---