Body Image – Toys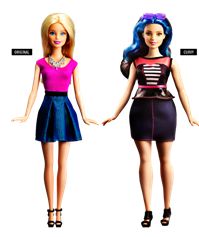 Perhaps the most famous example of a media product that creates a distorted body image in women is the Barbie doll. One of the best-selling toys of all time, according to Barbiemedia.com "more than 100 dolls are sold every minute, with a total of 58 million sold annually." [2] Barbie, created in 1959, has measurements that, at 1/6 scale, would make her 5'9" tall, with a 36-inch bust and an 18-inch waist. [3] These proportions, along with her stated weight of 110 pounds, make Barbie meet the criteria for anorexia and would likely make her unable to menstruate. [4] It comes as no surprise, then, that girls exposed to Barbie compared to other dolls were more likely to be dissatisfied with their body and wanted to be thinner.  [5] In 2016 Mattel released Barbie dolls with three new body types, curvy, petite and tall; when testing the new dolls, however, Mattel discovered that young girls would "undress the [new curvy doll] and snicker a bit," suggesting that "even kids as young as 6 or 7 are already conditioned for a perfect silhouette in their dolls" [6]– which may be why of the 36 dolls featured on the first page of the Barbie website, only one has the "curvy" body shape.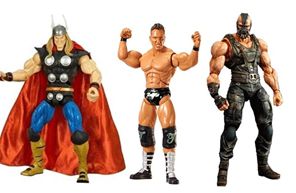 Unlike Barbie and similar girls' dolls, whose bodies have been fairly consistent over time, equivalent toys for boys – termed "action figures" due to a belief that boys would not want to play with dolls – have gone from realistic to grossly exaggerated. The first G.I. Joe figure, introduced in 1964, had a waist that would translate to 32-inches at human scale, along with 12-inch biceps. By 1991 the figure's waist had shrunk by three inches while the biceps had gained four; 1995's "GI Joe Extreme" figure would have biceps nearly 27 inches around – larger than any bodybuilder ever known. [7] Some recent action figures have muscles bigger than their heads, which immediately associates masculinity with violence and aggression in the argument for brain vs. brawn. The same pattern is found in figures which represent film characters: the 1978 "Star Wars" figures representing Han Solo and Luke Skywalker have proportions similar to the actors that play them, Harrison Ford and Mark Hammill; the 1998 figures, however, much more closely resemble Arnold Schwarzenegger and other bodybuilders-turned-actors.  [8] Recent figures with similar proportions are often based on popular video games, such as those based on the God of War and World of Warcraft series.  [9]
---
[4] Minna Rintala and Pertti Mustajoki. "Could mannequins menstruate?" BMJ, December 19, 1992, 305(6868), 1575–1576.
[5] Dittmar et al. (2006). "Does Barbie Make Girls Want to be Thin? The Effect of Experimental Exposure to Images of Dolls on the Body Image of 5- to 8-Year-Old Girls" Developmental Psychology, 42:2, 283–292
[7] Pope, Harrison G. Jr., et al. Evolving Ideals of Male Body Image as Seen Through Action Toys. International Journal of Eating Disorders 26: 65-72, 1999.