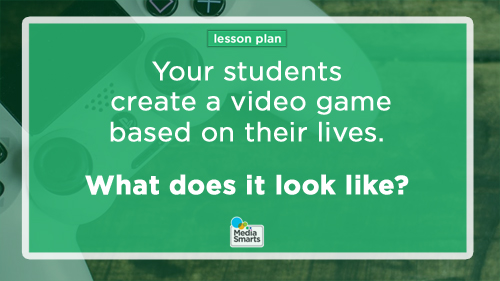 Level: Grade 9-12
Author: Matthew Johnson, Director of Education, MediaSmarts
Duration: 2 to 2 ½ hours

This lesson is part of USE, UNDERSTAND & CREATE: A Digital Literacy Framework for Canadian Schools.
Overview
In this lesson students consider diversity representation in video games by identifying examples of diversity in the games they play, comparing their findings to statistics on diversity in the Canadian population. They then learn about the concepts of stereotyping and othering and the media literacy key concepts that "media communicate values and messages and have social implications" and "each medium has its own aesthetic form." Students then study different video game genres and discuss how form and genre are related to diversity portrayal. Finally, students create a design for a video game that will communicate to another player some unique aspect of their own experience.
This lesson is part of the That's Not Me: Diversity in Media lesson series.
Learning outcomes
Students will demonstrate the ability to:
learn about stereotyping and othering
study the aesthetics and commercial considerations of video games
consider the effects of narrow diversity representation in games
create a game design
To open the Playing Diversity quiz, click here.
This lesson and all associated documents (handouts, overheads, backgrounders) are available in an easy-print, pdf kit version.