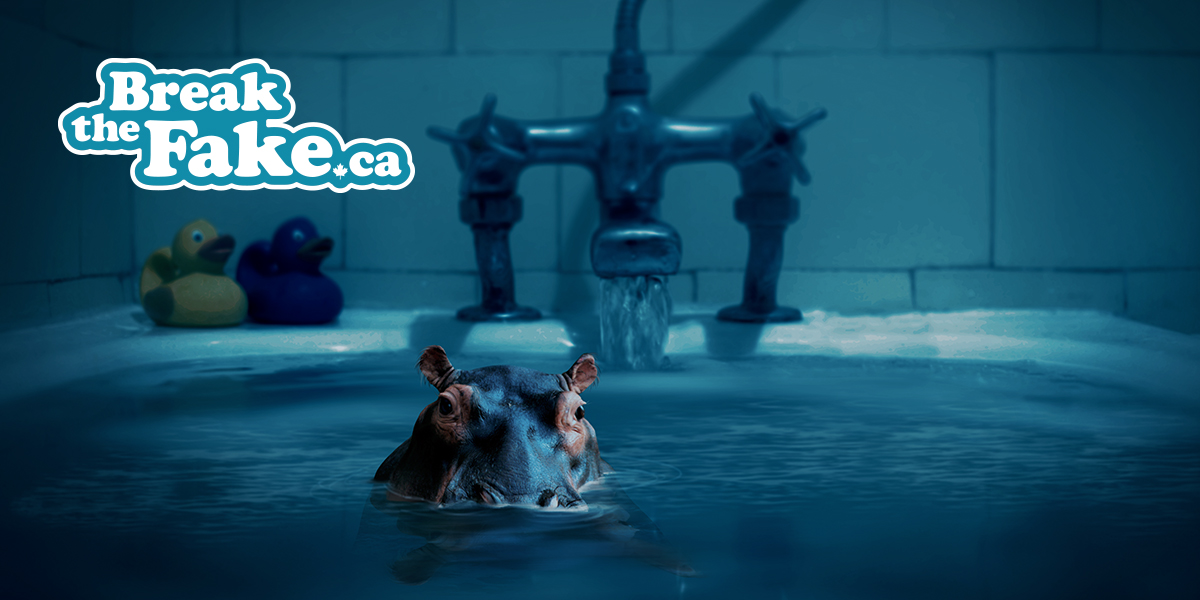 The house hippos are back!
Twenty years ago, some tiny hippos got a lot of attention from Canadians, and got us talking about the fine line between what is fact and what is fiction. 
In today's digital world, critical thinking is more important than ever.  Here you'll find a variety of resources to help you figure out what's real and what's fake in the stories you experience online. Learn four easy ways to fact-check, watch videos and download your favourite house hippo shareables! 
Quizzes
These quick quizzes will help you start to learn how to spot suspicious posts.
Break the Fake Animals Quiz (for kids)
Take this quiz with your kids so you can start discussions about misinformation as a family.
Break the Fake: News Quiz (for adults)
Try this quiz to see how sharp your "detective skills" are: can you spot which stories are true and which are not?
Four ways to tell if something is true online
Learn some key fact-checking skills that take less than a minute to do!
Use fact-checking tools
See if a fact-checker has already done the work for you:
1. Type key words from the story into this custom search engine, which shows results from several fact-checking sites: bit.ly/fact-search. 
2. You can also check individual fact-checking sites like FactsCan.ca or Snopes.com to see if they've debunked the story. 
Find the source
Don't just trust a headline or picture in a social media post, instead:
1. Click on the actual link in the post (usually below the image). 
2. The link will take you to the original story, so you can see if it comes from a trusted source.
3. If there's no link, type in key words from the story into a search engine like Google to find where it originally came from.
Verify the source
How do you know if the story is coming from a reliable website or news outlet? 
1. Type the name of the source into Google or Wikipedia. 
2. Read their Wikipedia page to see if: A) they're real, and B) they have a good track record.
Check other sources
Sometimes this is the easiest way to see if something is true. 
1. Open Google and click on the News tab.
2. Do a search to see if other news outlets are reporting the same story.
Shareables
Okay – it's time to have some fun! Here are videos, GIFs and images we've curated just for you! Download and share!
Unexplained disturbance in your closet?
Missing socks?
Is your robot vacuum suffering from battery drain?
I guess I'm not the cutest one in the house anymore.