A Day in the Life of the Jos - Description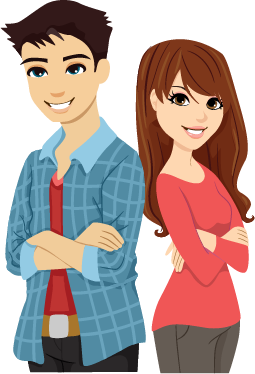 A Day in the Life of the Jos, a game for students in grades six to eight, aims to help students to think critically about issues relating to online privacy and marketing, responsible Internet use, authenticating online resources and Internet safety. The game includes five modules, represented as five days in the lives of Jo and Josie, with each day covering a topic that research has identified as being important for youth: cyberbullying, data privacy, privacy and reputation, privacy ethics, and authentication.
Each day is further divided into scenarios with issues or challenges that Jo and Josie encounter. These scenarios are based on genuine problems that youth ages 11-14 often face when using digital media. As students determine what actions should be taken by Jo or Josie, they receive feedback on the consequences of their decisions to help them learn key skills and knowledge. Each day ends with a recap of the choices players have made.
A Day in the Life of the Jos, a Web-based resource in HTML5, addresses a wide variety of curricular needs, including Information Technology, Language Arts and Social Studies.
A Day in the Life of the Jos modules:
October 2: Defusing Drama (Cyberbullying) The scenarios in this module reflect three key aspects of cyberbullying: engaging in bullying, witnessing bullying, and being a target of bullying.
October 6: Who's Watching Me Now? (Data Privacy) This module addresses five key topics relating to data privacy: data mining in social media, permanence of digital information, geolocation, cybersecurity and targeted ads.
October 16: Think Before You Share (Privacy and Reputation) This module addresses five key topics relating to privacy and reputation: controlling audiences, dealing with unwanted photos, preventing online impersonation, building a positive brand, and dealing with pressure to share personal content.
October 22: Other People's Pictures (Privacy Ethics) This module addresses four key topics relating to privacy ethics: sharing other people's photos, copyright ethics, sharing others' personal information and sharing others' content.
October 28: Fool Me Once… (Authentication) This module addresses five key topics relating to authenticating online information:  getting information from social media, authenticating crowd-sourced information such as Wikipedia, recognizing bias and loaded language, recognizing commercial content and authenticating videos.
The accompanying Teacher's Guide features an overview of A Day in the Life of the Jos, detailed instructions on how to play the game, links to research and resources on the issues covered in the scenarios, and an answer key to the questions accompanying each scenario. Teachers can track each student's progress in the game and evaluate their performance.
Pilot testing has shown that students learn the most from A Day in the Life of the Jos when they are encouraged to spend at least fifteen minutes in each scenario. Additional time will be needed for each scenario if the teacher chooses to implement any of the optional activities tied to it.
A Day in the Life of the Jos is accompanied by post-activity quizzes (one for each day in the game) that can be completed once students have finished a particular day. Each quiz includes five multiple-choice questions.
The game was created in partnership with Carleton University's CHORUS lab. Its usability and effectiveness was evaluated with grade six to eight students with results showing that it improved their digital literacy knowledge and behavioural intent, both immediately after playing the game and in post-test evaluations one week later. [1] The students who participated in the evaluation had very positive feedback about the game: they found it to be fun and relatable, as the characters were their age and presented situations they or their friends had encountered before.
---
[1] Sana Maqsood, Christine Mekhail, and Sonia Chiasson. A Day in the Life of Jos: A Web based Game to Increase Children's Digital Literacy. In Interaction Design and Children (IDC), 2018. <http://chorus.scs.carleton.ca/wp/wp-content/papercite-data/pdf/maqsood2018dayinthelife-idc.pdf>