A Day in the Life of the Jos (Grades 6-8)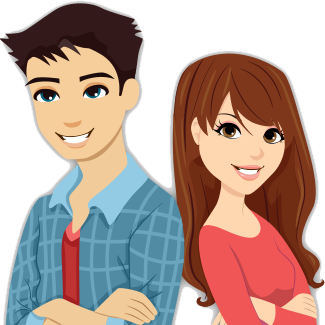 In the educational game A Day in the Life of the Jos, students in grades six to eight help the brother and sister team Jo and Josie with situations they encounter online as they go about a typical day in their lives. The modules are represented as five days in the lives of Jo and Josie, covering topics that research has identified as being important for youth:
defusing drama (cyberbullying)
data privacy
privacy and reputation
privacy ethics
authenticating online information
A Day in the Life of the Jos includes:
an interactive game;
a Teacher's Guide, with detailed instructions on how to play the game, links to research and resources on the issues covered in the scenarios, and an answer key to the questions accompanying each scenario;
post-activity interactive quizzes; and
the ability to track each student's progress and evaluate their performance.
The game was created in partnership with Carleton University's CHORUS lab.; Its usability and effectiveness was evaluated with grade six to eight students with results showing that it improved their digital literacy knowledge and behavioural intent, both immediately after playing the game and in post-test evaluations one week later.[1]
This promotional video provides an overview of the A Day in the Life of the Jos student tutorial.
Annual Licence Fees
PLEASE NOTE: A Day in the Life of the Jos is only available to the following education organizations and is not available to individuals, community groups or public libraries.
All fees are quoted in Canadian dollars before applicable taxes.
Individual School Licence - $350
District Licence - $68 per school when all schools in the district that offer grades six to eight are included (Minimum fee $350)
Faculty of Education Licence - $426
University- or College-wide Licence - $625
International licence fees are payable in Canadian dollars or U.S. dollars at the current U.S./Canadian exchange rates.
Questions?
For information about previewing A Day in the Life of the Jos or purchasing a licence please contact us:
licensing@mediasmarts.ca
Telephone 1-613-224-7721
Toll free in Canada 1-800-896-3342
Fax: 613.224.1958
---
[1] Sana Maqsood, Christine Mekhail, and Sonia Chiasson. A Day in the Life of Jos: A Web based Game to Increase Children's Digital Literacy. In Interaction Design and Children (IDC), 2018. <http://chorus.scs.carleton.ca/wp/wp-content/papercite-data/pdf/maqsood2018dayinthelife-idc.pdf>