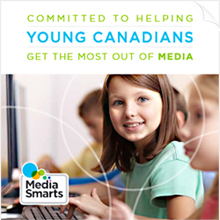 To achieve this goal we provide leadership in advancing digital and media literacy in Canadian schools, homes and communities; develop and deliver high-quality Canadian-based digital and media literacy resources; and conduct and disseminate research that contributes to the development of informed public policy on issues related to media
Download our brochure to learn more about MediaSmarts and what we do.
(MediaSmarts was formerly known as Media Awareness Network. You can learn about our name change in the History section.)
Our Beliefs
We believe that media are powerful forces in the lives of children and youth, with both positive and negative influences on their social, emotional, intellectual, and physical wellbeing.
We believe that education is one of the best responses to media issues, in order to develop engaged, informed and active citizens.
We believe citizens of all ages have the right to resources and tools to help them develop the knowledge, values and critical thinking skills that are needed to thrive in the global media world.
We believe that responses to media issues must be based on evidence, not emotion.
We believe that educational approaches to digital and media literacy must be grounded in the lived experience of children and youth.
We believe in promoting both rights and responsibilities to guide children and youth in becoming ethical and reflective media users.
We believe in an affirmative approach to developing digital and media literacy skills, one that acknowledges and builds on media's positive, creative and pleasurable dimensions.
We believe that active parental involvement is essential to raising "media smart" children and teens.
We believe in a shared responsibility between the public and private sectors and communities, to ensure that the interests of young people and their families are best served.