History
The organization started life in 1994 under the auspices of the National Film Board of Canada. We were incorporated as an independent entity in 1996, under the leadership of a volunteer board that then, as now, included representatives from leading Canadian media companies, government, and the education, library and not-for-profit sectors.
How Media Awareness Network (MNet) became MediaSmarts

In 2009, MNet embarked on a three-year process which culminated in the release of our new brand "MediaSmarts" in May 2012. With our fifteenth anniversary taking place in 2011, it was an opportune time to re-envision the organization to meet the educational challenges of the digital age. Working with Toronto-based agency Brandworks (who volunteered their time to this effort) we developed a new name and logo.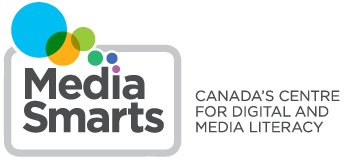 MediaSmarts was our final choice because it succinctly gets to the core of what we're about: critical thinking about media, in both traditional and digital forms.
While much changed through the re-branding process – our name, our logo and our website – our mission and core beliefs remains the same, as does our commitment to advancing digital and media literacy in Canadians schools, homes and communities.
Milestones
1994
Initially housed within the Ottawa offices of the National Film Board of Canada, the concept of Media Awareness Network begins to take shape.
1995
The Media Awareness Network receives seed funding from Bell Canada, CBC, WIC - Western International Communications, CHUM Television, Health Canada, Justice Canada, Canadian Heritage, Industry Canada, and the Department of Foreign Affairs and International Trade.
1996
MNet launches its pioneering media education website, and incorporates as a national non-profit organization.
1999
The federal government grants MNet charitable status.
The Canadian Radio-television and Telecommunications Commission (CRTC) announces it will not regulate the Internet, highlighting the importance of education and MNet's work in its decision. (Telecom Public Notice CRTC 99-14)
In recognition of its extensive collection of anti-racism education resources, MNet is awarded the inaugural Canadian Race Relations Foundation Award of Excellence.
2000
MNet releases the results of Canada's first survey of Canadian parents on the subject of their children's Internet use, entitled Canada's Children in a Wired World: The Parents' View.
2001
The Government of Canada releases its Cyberwise strategy on addressing illegal and offensive content on the Internet. MNet is a key partner in the strategy, which calls for initiatives that "educate and empower users".
MNet releases the results of its ground-breaking survey of almost 6,000 Canadian students: Young Canadians in a Wired World: The Students' View.
2003
MNet unveils a redesigned website that features expanded content and resources, as well as improved usability and navigation.
2006
MNet is included in UNESCO's comprehensive Media Education: A Kit for Teachers,
Students, Parents and Professionals, as a Canadian 'best practice'.
MNet launches the first ever National Media Education Week, with lead partner Canadian Teachers' Federation.
2009
National Media Education Week is changed to 'Media Literacy Week' to encourage broader involvement in the annual event. 
2010
MNet releases its Digital Literacy in Canada discussion paper in response to the Government of Canada's Digital Economy Consultation. The paper calls for digital literacy as a cornerstone for a national digital strategy.
2011
MNet releases findings from Young Canadians in a Wired World Phase III research – Teachers' Perspectives – which explores the attitudes of Canadian teachers regarding networked technologies in classrooms.  
2012
MNet releases findings from Young Canadians in a Wired World Phase III focus groups with parents, children and youth – Talking to Youth and Parents about Life Online. The ground work for a national student survey is initiated.
MNet releases its new brand MediaSmarts and launches a newly redesigned website.
2014
MediaSmarts partners with the Information and Communications Technology Council to host a Youth and Digital Skills symposium to explore policies, programs and partnerships to advance digital literacy skills development in Canada.
MediaSmarts releases Life Online, the first report in a series of studies drawn from data collected in a  national survey of 5,436 students through the Young Canadians in a Wired World Phase III research project.
2015
Funded through the Canadian Internet Registration Authority's Community Investment Program, MediaSmarts releases USE, UNDERSTAND & CREATE: A Digital Literacy Framework for Canadian Schools, a roadmap for teaching digital literacy supported by lessons and interactive resources. 
MediaSmarts and the Canadian Teachers' Federation celebrate the 10th anniversary of Media Literacy Week with the theme "Respect in a Digital World."
2016
MediaSmarts partners with the CRTC, National Film Board of Canada and Canadian Heritage in a Youth Discoverability Summit, exploring how youth access content in the age of abundance.
MediaSmarts releases the report Connected to Learn: Teachers' Experiences with Networked Technologies in the Classroom as part of its ongoing Youth Canadians in a Wired World research study.
The theme for the 11th annual Media Literacy Week is "Makers and Creators."
2017
MediaSmarts releases its report To Share or Not to Share: How Teens Make Privacy Decisions About Photos on Social Media.
Media Literacy Week 2017 features the theme "Inclusion in a Connected World."
2018
With funding from Innovation, Science and Economic Development Canada's CanCode program, and the Canadian Internet Registraton Authoriy's Community Investment Program, MediaSmarts launches Digital Literacy 101: Digital Literacy Training Program for Canadian Educators including workshops conducted in faculties of education across Canada.
Media Literacy Week 2018 tackles misinformation with the theme "Fact or Fake: Help the World Stop Misinformation in its Tracks."
2019
MediaSmarts brings back the house hippo for the Canadian Heritage-funded campaign Break the Fake, with the goal of teaching Canadians the importance of checking facts before sharing online.
The YWCA and MediaSmarts launch the digital literacy skills workshop program DigitalSmarts, with funding from ISED.
Our landmark 20-year study of youth and technology is re-named from Young Canadians in a Wired World to Young Canadians in a Wireless World. Phase IV of the study begins through focus groups with youth and their parents, funded by CIRA.
2020 
MediaSmarts launches the campaign Check First. Share After. with funding from Canadian Heritage to help combat misinformation about the COVID-19 pandemic.  
MediaSmarts releases the report Young Canadians Speak Out: A Qualitative Research Project on Privacy and Consent with funding from the Office of the Privacy Commissioner of Canada.  
The 15th annual Media Literacy Week has over 80 collaborating organizations take part and over 80 million online impressions.  
2021 
MediaSmarts releases the report Algorithmic Awareness: Conversations with Young Canadians about Artificial Intelligence and Privacy with funding from the Office of the Privacy Commissioner of Canada.  
The 16th annual Media Literacy Week has over 110 collaborating organizations take part and boasts over 74 million online impressions.  
2022 
With funding from Canadian Heritage, MediaSmarts hosts a symposium with key stakeholders to discuss a national digital media literacy strategy for Canada, resulting in the report From Access to Engagement: Building a Digital Media Literacy Strategy for Canada.