Know It or Not? Increasing resiliency to health and science misinformation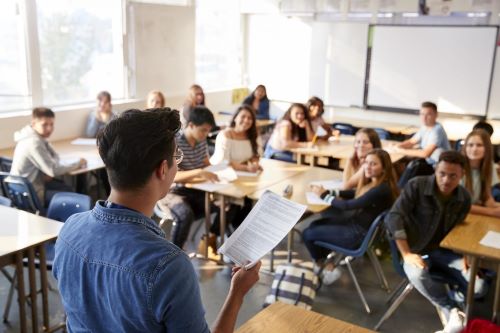 Free Lessons To Fight Misinformation
Misinformation awareness starts in the classroom. Kids spend increasingly more time online. They consume unverified content on a daily basis, be it through browsing the web, watching YouTube, or through content shared with them. Grade 7 to 12 educators can use these free interactive lessons to raise awareness around health and science misinformation.
Our initiative
MediaSmarts is partnering with Digital Public Square to create resources to help students become more resilient to misinformation and common misconceptions related
to public health. Like all MediaSmarts resources, it has been created to meet curriculum expectations in each province and territory.
Teachers will be asked to review either one of these lessons, test it with their students, and provide feedback on these resources via a survey. We will not collect any
personally identifiable information and all feedback provided will be completely anonymous.
Teachers will also receive a 50$ Indigo gift card for their participation. If you are interested, please contact Digital Public Square for more information at bonjour@digitalpublicsquare.org with the subject line "Media literacy lessons".
Lesson: Do Sharks Love Ice Cream?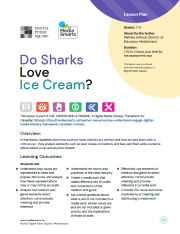 Level: Grades 7-9 
About the the Author: Mathew Johnson, Director of Education, MediaSmarts
Duration: 1 1/2 to 2 hours, plus time for the assessment task
Overview
In this lesson, students learn how science news articles are written and how to read them with a critical eye. They analyze elements such as peer review, correlation, and bias, and then write a science article based on an actual press release.

Learning Outcomes
Students will:
Understand how issues are represented in news and popular discourse, and analyze how these representations may or may not be accurate
Analyze how medium and genre elements direct attention, communicate meaning and provoke inference
Understand the norms and practices of the news industry
Create a media work that makes effective use of codes and conventions of the medium and genre
Ask critical questions about what is and is not included in a media work, whose voices are and are not included or given priority, and the implications of those choices
Effectively use elements of medium and genre to direct attention, communicate meaning and provoke inference in a media work
Consider the moral and social implications of creating and distributing a media work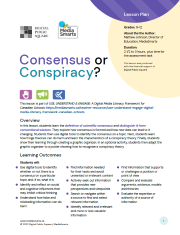 Level: Grades 9-12
About the the Author: Mathew Johnson, Director of Education, MediaSmarts
Duration: 2 1/2 to 3 hours, plus time for the assessment task
Overview
In this lesson, students learn the definition of scientific consensus and distinguish it from conventional wisdom. They explore how consensus is formed and how new data can lead to it changing. Students then use digital tools to identify the consensus on a topic. Next, students learn how fringe theories can do harm and learn the characteristics of a conspiracy theory. Finally, students show their learning through creating a graphic organizer; in an optional activity, students then adapt the graphic organizer to a poster showing how to recognize a conspiracy theory.

Learning Outcomes
Students will:
Use digital tools to identify whether or not there is a consensus on a particular topic and, if so, what it is
Identify and reflect on social and cognitive influences that may inhibit critical thinking
Understand how false and misleading information can do harm
Find information needed for their tasks and avoid unwanted or irrelevant content
Actively seek out information that provides new perspectives and viewpoints
Search or navigate within a source to find and select relevant information
Identify relevant and irrelevant and more or less valuable information
Find information that supports or challenges a position or point of view
Compare and evaluate arguments, evidence, models and theories valuate the expertise or authority of a source of information
Understand the benefits and drawbacks of collectively authored information sources such as wikis and review
Take active steps to make conscious use of networked tools
Contribute to a positive information landscape
Become a MediaSmarts' Teacher Champion 
We'd also like to invite educators to become MediaSmarts' Teacher Champions! Even if you're not able to participate in this project, we are always looking for teachers to help test resources and be the first to give feedback on our new materials. If you'd like to sign up to become a Teacher Champion please fill out the form here.