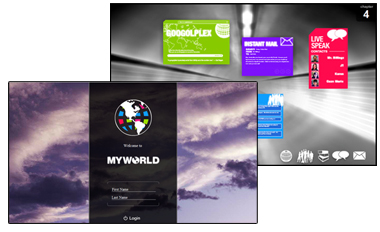 MyWorld: A digital literacy tutorial for secondary students aims to teach students essential digital literacy skills through simulating their favourite online experiences. The tutorial is divided into four chapters, each of which focuses on a particular aspect of digital literacy: researching and authenticating online information, managing privacy and reputation, dealing with online relationships and using digital media in an ethical manner.
In each chapter, students use a variety of online tools and environments — a search engine, a social networking site, for example — to complete tasks that challenge their digital literacy skills. These tasks are based on issues youth encounter daily, relating to their friends, schoolwork and personal lives.
MyWorld, a Web-based resource in Flash, addresses a wide variety of curricular needs, including Information Technology, Language Arts, Health and Social Studies.
MyWorld chapters:
Chapter One: Authenticating Online Information focuses on research and authenticating online information and addresses a number of issues, including online hate, online scams, and reliability of online content and user-created encyclopedias.
Chapter Two: Managing Your Reputation and Privacy Online focuses on the challenges students encounter in managing their privacy and reputations online, including privacy and social networking sites, reputation management, privacy settings, photo tagging and privacy policies.
Chapter Three: Dealing with Online Relationships focuses on managing online relationships, including recognizing risky online behaviour in peers, excessive Internet use or gaming, online gambling, sexting, online sexual exploitation, dealing with hateful comments by friends, and responsibility towards peers.
Chapter Four: Acting Ethically Online focuses on questions of online ethics including intellectual property issues, plagiarism, and cyberbullying.
MyWorld is provided with detailed training presentations which walk teachers through each chapter in the tutorial.
The accompanying Teacher's Guide features an overview of MyWorld, detailed instructions for using the tutorial, information on each chapter and activities, and assessment tools.
The Classroom Activities Guide includes background information on the major issues covered in the tutorial, activities and handouts for classroom use, and a list of related MediaSmarts resources.