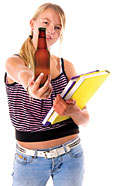 This interactive quiz, for Grades 6 to 8, is designed to increase students' knowledge and understanding of alcohol marketing aimed at youth. 
Young people are exposed to alcohol marketing messages on a daily basis in everything from TV commercials to branded clothing, ads in magazines, Web sites and sponsorship at sporting and music events. The quiz helps students understand how these marketing messages can influence their attitudes towards drinking.
The quiz is a companion activity to the Target is You! lesson series: Kids, Alcohol and Advertising. It can be used as a stand-alone activity or in conjunction with the lessons: before to introduce the topic, or after to re-enforce learning.
This game requires an Internet Browser that supports Flash Player. If you require an updated version of Flash player, you may download it from https://get.adobe.com/flashplayer/