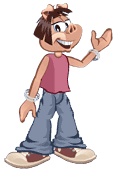 In this game, designed for ages 8-10, the CyberPigs play on their favourite website and encounter marketing ploys, spam and a close encounter with a not-too-friendly wolf. 
The purpose of the game is to teach kids how to spot online marketing strategies, protect their personal information and avoid online predators.
The accompanying Teacher's Guide explains how to play the game, gives background information on the issues of online marketing, spam and children's privacy and provides activities and handouts for classroom use.
Home and School Connection
This game requires an Internet Browser that supports Flash Player. If you require an updated version of Flash player, you may download it from https://get.adobe.com/flashplayer/