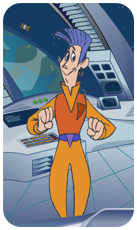 This interactive module for Grades 7 and 8 is designed to increase students' ability to recognize bias, prejudice and hate propaganda on the Internet and in other media. 
In Allies and Aliens students become agents on an intergalactic mission for earth. As students interact with alien characters and visit websites on the "Galactic Web", they come across varying degrees of prejudice and discrimination. These interactions help students to understand how such messages can promote hate.
Allies and Aliens is accompanied by an extensive Teacher's Guide that contains background information about the module, the issues that it addresses, and supporting discussion points and student activities.
Start Game
This game requires an Internet Browser that supports Flash Player. If you require an updated version of Flash player, you may download it from https://get.adobe.com/flashplayer/