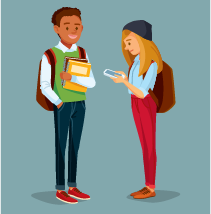 The Digital Literacy Training Program for Canadian Educators workshop provides an overview of essential digital literacy skills and key concepts of media and digital literacy, familiarizes participants with the digital experiences of Canadian youth, and introduces the resources and tools that are available through MediaSmarts' USE, UNDERSTAND & CREATE digital literacy framework.
Each workshop is available as a self-directed tutorial or as a downloadable PowerPoint presentation ideal for presenting to a group. The workshop is timed to take three hours if all of the activities are included. If the activities are abridged or conducted by the facilitator it can be reduced to roughly two hours.
The workshop is part of the Digital Literacy Training Program for Canadian Educators.
These resources were developed with financial support from CIRA's Community Investment Program and Innovation, Science and Economic Development Canada's CanCode Program. The funding also supported a series of free digital literacy training workshops conducted by MediaSmarts in faculties of education across Canada.