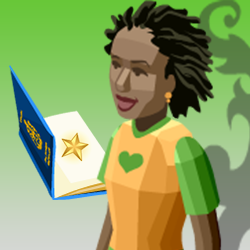 In December 2009 Passport to the Internet was honoured by the MEDEA Awards in the 'Highly Commended' category.
Passport to the Internet, an Internet literacy tutorial, helps students in Grades 4 to 8 develop the critical thinking skills they need to apply to their online experiences by enabling them to use popular online tools and websites in a secure and ethical manner, and to their full potential.
Using simulations of the most popular Internet environments, this interactive resource teaches students key skills relating to:
online safety
authenticating online information
recognizing online marketing ploys
protecting their privacy
managing online relationships
dealing with cyberbullying
PASSPORT TO THE INTERNET INCLUDES:
an interactive online tutorial
an extensive Teacher's Guide with detailed instructions, backgrounders, and classroom activities and handouts
This promotional video provides an overview of the Passport to the Internet student tutorial.
Annual Licence Fees
PLEASE NOTE: Passport to the Internet is only available to the following education organizations and is not available to individuals, community groups or public libraries.
All fees are quoted in Canadian dollars before applicable taxes.
Individual School Licence - $250
District-wide Licence - $54 per school when all schools in the district that offer grades four to eight are included, plus tax (Minimum fee $250)
Faculty of Education Licence - $275
University or College Licence - $410
International Licences
All of MediaSmarts' licensed resources are available to educators outside of Canada.
International licence fees are payable in Canadian dollars or U.S. dollars at the current U.S./Canadian exchange rates.
Questions?
For information about previewing Passport to the Internet or purchasing a licence please contact us:
licensing@mediasmarts.ca
Telephone 1-613-224-7721
Toll free in Canada 1-800-896-3342
Fax: 613.224.1958