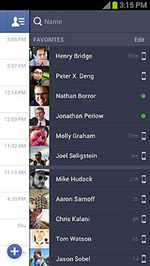 While IM used to be strongly associated with a small number of platforms – at times both MSN (Microsoft Network) and BBM (Blackberry Messenger) have been synonymous with it – today almost every online platform has instant messaging functionality. This may be delivered through websites or through mobile apps and can be combined with video chat (Skype), photo sharing (Instagram, Snapchat, Kik), social networking (Facebook) or blogging (Tumblr). Some dedicated IM platforms remain popular, however, especially on mobile devices such as smartphones. In Canada, the top two instant messaging apps are Facebook Messenger (which lets users chat both through the mobile app and through their Facebook account) and WhatsApp (which offers text, audio, video and photo messaging), each of which have about one-sixth of the Canadian market; no other single app has more than three per cent. [1]
Most young people use instant messaging on a regular basis. For kids, it is an incredible free tool that lets them chat with friends, coordinate school projects and plan activities. It is also an integral part of their daily social lives: knowing all the jokes shared during the previous night's IM discussion helps kids build and maintain their social relationships with peers at school. Beyond that, as young people use the "my contacts" feature to create lists and groups of friends to talk with, they are developing skills for managing a social network or community of peers.
Sometimes kids use other people's accounts to disguise their identity in conversations with others – with or without permission. They don't necessarily do this maliciously: they may view it as a joke or as a role-playing experiment (which can be a normal developmental activity for adolescents). But harassment and hurt feelings can easily result, so it's a good idea to start the conversation early with your kids about these sorts of behaviours. Build empathy by asking them to consider: even if the person whose identity you have "borrowed" has given you permission, is this fair to the person you're talking to? How would you feel if this happened to you?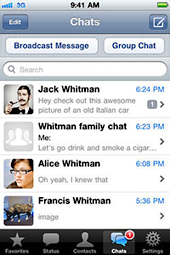 There are also privacy issues associated with instant messaging. For example, in 2013 the Office of the Privacy Commissioner of Canada found that WhatsApp had violated Canadian privacy law by requiring users to upload their phone's entire address book, giving the company access to information on all of the user's contacts. [2] Because of the ability to send text, images and video, instant messaging now includes most of the same privacy risks as social networking: kids need to think carefully about what they want to send and also what they want to share with others.
Here are some tips to help you effectively manage instant messaging in the home:
Set ground rules before giving your kids permission to use instant messaging. Tell them your expectations about content, language and behaviour online.
Ensure that your kids are not revealing too much personal information in their profiles and, for the younger ones, make sure that they know everyone on their contact lists. To learn more about protecting personal information visit our Privacy section.
Instant messaging is one of the main ways through which young people experience cyberbullying and sexual harassment online. Discuss the ethical questions surrounding online bullying behaviour and how the physical anonymity of the technology encourages kids to say and do things that they would never do face-to-face.
Teach your kids that if they are being harassed through IM to stop the activity immediately and block the sender's messages – they should never reply to harassing messages. Make sure your IM program is automatically saving the IM chat logs so you have physical evidence of the harassment should you need to report it to the school or police. To learn more about online bullying visit our Cyberbullying section.
Many IM services include the option to share photos or videos as well. Talk to kids about not accepting incoming video calls from screen names they do not recognize. To learn more about how to use photo and video sharing features safely visit our Sexual exploitation section.
---
[1] Charlie Warzel. "How instant messaging rules the Internet." BuzzFeed, May 29, 2013. http://www.buzzfeed.com/charliewarzel/how-instant-messaging-rules-the-interne
[2] "WhatsApp breaches privacy laws." CBC News, January 28, 2013. http://www.cbc.ca/news/technology/story/2013/01/28/technology-whatsapp-privacy.html