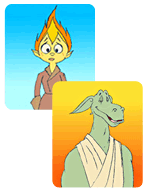 In the learning module Allies and Aliens students assume the role of agents from planet Earth who must assess varying degrees of prejudice and misinformation as they visit websites from other planets.
Because most kids don't think to look for bias or false information online and subtle forms of racism may be difficult to recognize, Allies and Aliens uses the pretence of an evaluation mission to keep players from guessing its true purpose right away. The mission is divided into two parts. On Day One, students encounter information with little direction. On Day Two, the module's purpose becomes apparent.
Allies and Aliens aims to teach students the basics about bias, stereotyping, misinformation and propaganda techniques, on the Internet and in other media. It also helps students to understand the difference between fact and opinion, and the importance of authenticating online information. The challenges of this module will ultimately sharpen students' research skills as well as their critical thinking skills. The experience will teach them to recognize viewpoint, bias, and manipulation – online and off.
Teacher's Guide
The Allies and Aliens module is supported by a 48-page Teacher's Guide (available in PDF format). The guide includes an overview of the module and characters; background information on the main issues that are addressed; tips on how to use this module in the classroom; suggestions for activities and discussion; and links to additional resources on the MediaSmarts Web site.
Download Teacher's Guide (PDF)
Before Playing
It is strongly recommended that teachers review the Teacher's Guide and go through Allies and Aliens themselves, before their students, in order to become familiar with its characters, themes and structure.
Note: Because this module features audio components, teachers should instruct students to use headphones if they play the module in a classroom or lab.