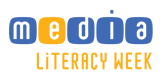 Media Literacy Week is an annual event that takes place every November. Co-lead by MediaSmarts and the Canadian Teachers' Federation, the week puts a spotlight on the importance of digital and media literacy as a key component in the education of children and young people. 

Working with Canadian schools, libraries, and educational associations and organizations, Media Literacy Week participants seek to inspire a leap in Canadians' thinking towards media education as an important – and innovative – approach towards creating thoughtful, engaged and informed young people.
This initiative provides Canadians with a focal point for media-related activities and, at the same time, showcases the creative ways that digital and media literacy are being integrated into classrooms and communities across the country. The Media Literacy Week website (https://www.medialiteracyweek.ca/) includes a calendar of upcoming events across the country, ideas and suggestions for getting involved, and a press kit of news, articles and promotional materials.
The heart of the Media Literacy Week website is Media Education: Make It Happen! a series of free resources developed by MediaSmarts to help educators better understand and facilitate media literacy in their classrooms. Media Education: Make It Happen! resources include a friendly and informative booklet for teachers and librarians, and a PowerPoint presentation and facilitator's guide for professional development.
For information, resources and upcoming events for this year's week, visit the Media Literacy Week website.
Digital & Media Literacy Fundamentals
What does it mean to be literate in today's complex media culture? Here we explore the underlying aspects and principles of digital and media literacy, bringing together various concepts and competencies.