Privacy Playground Teacher's Guide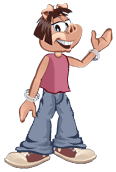 This Teacher's Guide contains background information on the issues of online marketing to children, and on how to protect one's personal privacy on the Net. It also provides activities and exercises for use at home or in the classroom.
Privacy Playground may be used for personal/educational use only. Worksheets, handouts and activities in the Teachers' Guide may be reproduced for personal or classroom use without permission, provided the copyright notice remains intact.