CyberSense and Nonsense Teacher's Guide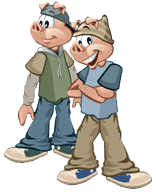 In this game, Les, Mo and Lil Pig learn some valuable lessons about the authenticity of online information, as well as rules of netiquette. The game also addresses the problematic issues of online hate and stereotyping.
This Teacher's Guide contains background information, discussion guides, activities and exercises that support the main "cyber-lessons" in the game.
Both the game and guide are intended for personal or educational use only. Worksheets, handouts and activities in the Teacher's Guide may be reproduced for personal or classroom use without permission, provided the copyright notice remains intact.