CyberSense and Nonsense: The Second Adventure of The Three CyberPigs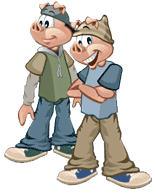 In this sequel to Privacy Playground, for ages 8-10, the three CyberPigs learn some important lessons about authenticating online information and observing rules of netiquette. They also learn how to distinguish between fact and opinion and how to recognize bias and harmful stereotyping in online content. As Les, Mo and Lil discover, "just because it's on the Internet, doesn't mean it's true."
The accompanying Teacher's Guide explains how to play the game, gives background information on the issues of authenticating online content, stereotyping and cyberbullying and children's provide activities and handouts for classroom use.
Start Game [2]