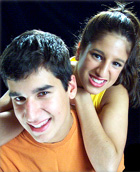 This interactive online module takes students through a CyberTour of twelve mock websites to test their savvy surfing skills. 
It includes a 20-question online quiz that provides additional food for thought about the Web issues that the brother and sister team Josie and Joseph Cool encounter.
Jo Cool or Jo Fool is also accompanied by an extensive Teacher's Guide, that contains background information for teachers, and questions and classroom activities for students, about online issues such as marketing, privacy, safety, responsible Internet use and authenticating information.
Jo Cool or Jo Fool was written and developed by Valerie Steeves and Jane Tallim.
A tally has been added to the Jo Cool or Jo Fool Cyberquiz. This addition was made possible by a financial contribution from Industry Canada's SchoolNet program.