Introduction
Today's youth are often called 'digital natives' by adults because of the seemingly effortless way they engage with all things digital. It's easy to see why: Canadian youth live in an interactive, "on demand" digital culture where they are used to accessing media whenever and wherever they want. Instant-messaging, photo sharing, texting, social networking, video-streaming, and mobile Internet use are all examples where youth have led the charge in new ways of engaging online.
But this enthusiasm masks a potential problem: although young people don't need coaxing to take up Internet technologies and their skills quickly improve relative to their elders, without guidance they remain amateur users of information and communications technology (ICT), which raises concerns about a generation of youth who are not fully digitally literate, yet are deeply immersed in cyberspace.
In order to be literate in today's media-rich environments, young people need to develop knowledge, values and a whole range of critical thinking, communication and information management skills for the digital age. As increasing numbers of businesses, services and even democratic processes migrate online, citizens who lack digital literacy skills risk being disadvantaged when it comes to accessing healthcare and government services and opportunities for employment, education and civic participation.[1]
A basic question, then, is what exactly is digital literacy?
This section looks at the various aspects and principles relating to digital literacy and the many skills and competencies that fall under the digital literacy umbrella.
---
What is Digital Literacy?
Digital Literacy Model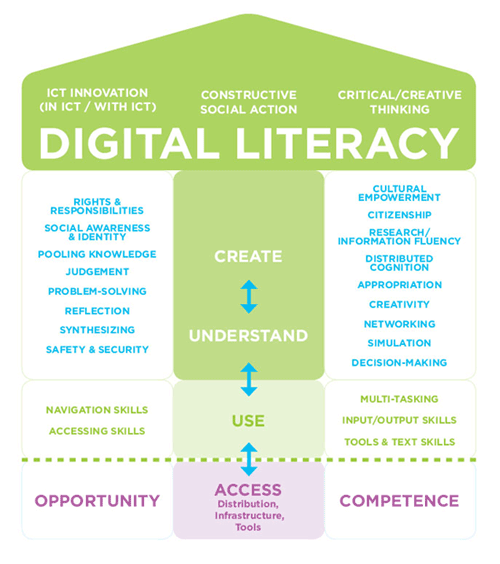 This model[2] illustrates the many interrelated elements that fall under the digital literacy umbrella. These range from basic access, awareness and training to inform citizens and build consumer and user confidence to highly sophisticated, and more complex creative and critical literacies and outcomes.[3] There is a logical progression from the more fundamental skills towards the higher, more transformative levels, but doing so is not necessarily a sequential process: much depends on the needs of individual users.
Use, Understand, Create
Traditional definitions of literacy have focused on skills relating to numeracy, listening, speaking, reading, writing and critical thinking, with the end goal being developing active thinkers and learners who are able to engage in society in effective and meaningful ways.[4] These skills are needed for full participation in digital society as well, but they are only part of a larger set of skills and competencies that are required.
Competencies for digital literacy can be classified according to three main principles: Use, Understand and Create.
Use represents the technical fluency that's needed to engage with computers and the Internet. Skills and competencies that fall under "use" range from basic technical know-how –  using computer programs such as word processors, web browsers, email, and other communication tools – to the more sophisticated abilities for accessing and using knowledge resources, such as search engines and online databases, and emerging technologies such as cloud computing.
Understand is that critical piece – it's the set of skills that help us comprehend, contextualize, and critically evaluate digital media, so that we can make informed decisions about what we do and encounter online. These are the essential skills that we need to start teaching our kids as soon as they go online.
Understand includes recognizing how networked technology affects our behaviour and our perceptions, beliefs and feelings about the world around us.
Understand also prepares us for a knowledge economy as we develop – individually and collectively – information management skills for finding, evaluating and effectively using information to communicate, collaborate and solve problems.
Create is the ability to produce content and effectively communicate through a variety of digital media tools. Creation with digital media is more than knowing how to use a word processor or write an email: it includes being able to adapt what we produce for various contexts and audiences; to create and communicate using rich media such as images, video and sound; and to effectively and responsibly engage with Web 2.0 user-generated content such as blogs and discussion forums, video and photo sharing, social gaming and other forms of social media.
The ability to create using digital media ensures that Canadians are active contributors to digital society. Creation – whether through blogs, tweets, wikis or any of the hundreds of avenues for expression and sharing online – is at the heart of citizenship and innovation.
Given how quickly and frequently our media world is evolving, developing and maintaining one's digital literacy is a lifelong process. The specific skills that are needed will vary from person to person depending on their needs and circumstances – which can range from basic awareness and training to more sophisticated and complex applications.
The Multi-Literacies of the Digital Age
Digital literacy is more than technological know-how: it includes a wide variety of ethical, social, and reflective practices that are embedded in work, learning, leisure, and daily life.
The term "multi-literacies" is often used to describe the various aptitudes and abilities that are needed for us to use, understand and create digital media. Given this, it's helpful to think of "digital literacy" not as a concrete set of skills, but as a framework that draws from and expands on numerous literacies and competencies.
Under the "digital literacy umbrella" are a wide range of interrelated skills that traditionally fall under media literacy, technology literacy, information literacy, visual literacy, communication literacy and social literacies.[5]
Media literacy:
With its expanded notion of 'text' that includes images, audio and digital media, media literacy is closely associated with digital literacy. Media literacy reflects our ability to access, analyze, evaluate and produce media through understanding and appreciation of:
the art, meaning and messaging of various forms of media texts
the impact and influence of mass media and popular culture
how media texts are constructed and why they are produced
how media can be used to communicate our own ideas effectively
Critical thinking is central to both digital and media literacy.  Learn more about media literacy in the Media Literacy Fundamentals section.
Technology literacy:
Proficiency with technology is most often associated with digital literacy. This ranges from basic computer skills to more complex tasks like editing a digital film or writing computer code.
We have to be careful, though, not to confuse proficiency with knowledge and understanding: a teched-up teen with superb technology skills may still trust much of the information he/she finds online, copy straight off the Web for school projects, and not give a thought to the privacy implications of his/her online activities.  Digital literacy involves both skills and a set of good online habits that include reflection, critical awareness and responsibility.
Information literacy:
This is another important aspect of being digitally literate that includes the ability to assess what information is needed, to know how to find it online and how to critically evaluate and apply it. Originally developed for library use, this literacy translates well into the digital domain where, in a sea of unfiltered online information, knowing how to think critically about sources and content is essential.
Visual literacy:
At its most basic, visual literacy reflects our ability to understand and produce visual messages, whether through objects, actions or symbols. Visual literacy is essential to both learning and communication in modern society.
Communication literacy:
These competencies form the foundation for thinking, organizing and connecting with others in a networked society. In particular, today's youth need not only to understand how to integrate knowledge from multiple sources such as music, video, online databases, and other media[6]; they also need to know how to use multiple sources to disseminate and share knowledge.
Social literacy:
Social competencies are also needed for full participation in digital society, which media scholar Henry Jenkins describes as a "participatory culture" that is developed through collaboration and networking.
In such a world, youth need skills for working within social networks, for pooling knowledge within a collective intelligence, for negotiating across cultural differences that shape the governing assumptions in different communities and for reconciling conflicting bits of data to form a coherent picture of the world around them.[7]
Jenkins identifies a series of "new literacies" that are built upon and reinforce these social skills. These include:
Play – the capacity to experiment with one's surroundings as a form of problem-solving
Performance – the ability to adopt alternative identities for the purpose of improvisation and discovery
Simulation – the ability to interpret and construct dynamic models of real-world processes
Appropriation – the ability to meaningfully sample and remix media content
Multitasking – the ability to scan one's environment and shift focus as needed to salient details
Distributed Cognition – the ability to interact meaningfully with tools that expand mental capacities
Collective Intelligence – the ability to pool knowledge and compare notes with others toward a common goal
Judgment – the ability to evaluate the reliability and credibility of different information sources
Transmedia Navigation – the ability to follow the flow of stories and information across multiple platforms (understanding a storyline that's told both on a TV show and a website, for instance, or following a news story through various different outlets)
Networking – the ability to search for, synthesize, and disseminate information
Negotiation – the ability to travel across diverse communities, discerning and respecting multiple perspectives, and grasping and following alternative norms.[8]
Globally, the International Society for Technology in Education (ISTE) frames its benchmarks for digital literacy around six standards: creativity and innovation; communication and collaboration; research and information fluency; critical thinking, problem solving, and decision making; digital citizenship; and technology operations and concepts.[9]
Where Does "Digital Citizenship" Fit In?
Digital Citizenship is "character education" in a networked world. As one teacher puts it:
One of the big mission statements and themes of our school is building character today for communities of tomorrow, so we are always tying things back into good character and how we want to be perceived by others; how we want to treat others; and how we want others to treat us … technology provides one more way to teach it, one more way to make it relevant to students.[10]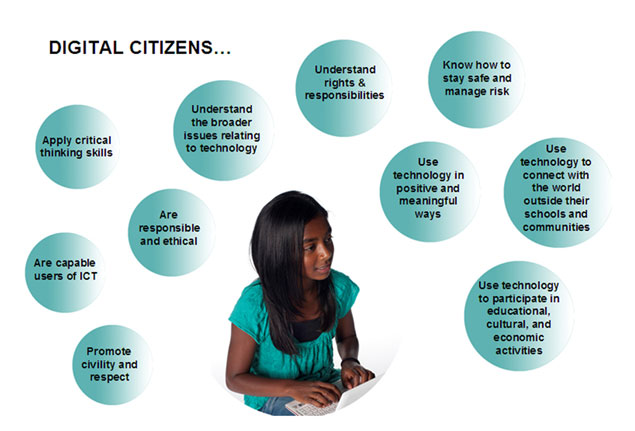 Being a critically engaged user and consumer of media is an essential part of active citizenship in the 21st century: we use media to inform ourselves, to help shape our opinions, to interact with our communities and to make our voices heard.
Models for digital citizenship are generally framed around elements such as rights and responsibilities, participation or civic engagement, norms of behaviour or etiquette and a sense of belonging and membership.[11][12]
Digital citizenship is closely aligned to civics in a traditional sense, where understanding digital media and being able to use it is becoming a vital part of active citizenship. As media messages dominate our political debates and tools such as Facebook and Twitter are used for activism and organizing political movements around the world, it's increasingly important for young people to be able to view media critically and be prepared to be engaged digital citizens who contribute to their communities in a positive way. To do so, they need the full range of skills we associate with media and digital literacy to be able to know and exercise the rights they hold as consumers, as members of online communities, as citizens of a state and as human beings.
Fostering Digital Literacy in the Classroom
Many teachers are using technology in their classrooms to support different learning styles and to engage students: what's missing are guidelines to help them do this in ways that promote innovative thinking and collaborative work, promote ethical practices and strengthen their own professional development.
Teachers, interviewed by MediaSmarts, identified several key factors that limit the ability of educators to help students build digital literacy skills. They also offered some solutions to these problems, including the need to:
provide students with authentic learning opportunities that are enhanced through technological tools;
position teachers as facilitators and co-learners, instead of "drill and kill" experts;
focus teacher training on how to use technology to enhance learning and meet curricular outcomes; and
create reasonable policies and less restrictive filters in schools so that teachers can better help students develop and exercise good judgement.[13]
Technology has shifted the traditional classroom paradigm that positions the teacher as the expert. This can be hard for many educators to accept, but it's not necessarily a bad thing. In our quickly evolving technological world, we are all learners, and teachers who are willing to share responsibility with students are more likely to be comfortable – and effective – in a networked classroom.
This is where our education system can benefit from models in the youth engagement sector, where young people are acknowledged as decision-makers, partners and agents of social change, and adults assume the role of trusted guides and lifelong learners alongside youth.[14]
One of the supporting principles of Manitoba's Continuum Model for Literacy with ICT is the gradual release of responsibility from teacher to student.[15] According to this principle, teachers act as facilitators and guides who provide scaffolding to help students develop higher-level critical and creative thinking and deeper understanding relating to ICT as they gradually become more autonomous users of networked technology.[16]
This principle fits well into effective programs for digital literacy and digital citizenship that:
Are holistic, building links between school, home and the community and taking into account both online and offline opportunities for engagement and empowerment
Are evidence-based
Are proactive, as opposed to reactive
Position digital technology as a right and a responsibility
Reinforce positive and pro-social uses of technology
Provide a wide range of tools and resources
Focus not just on safety, but the whole range of digital literacy skills and competencies
Are built upon traditional aspects of character and moral education as well as a broader interpretation of civics education
Are child-centred and youth-led – building on the reality of young people's lives and providing real and authentic experiences
Foster a gradual release of responsibility towards independent practice by youth – working with youth in building resilience, finding solutions and promoting positive engagement with technology
Position adults as supportive mentors and facilitators
MediaSmarts is working with academics and educators across the country to identify where digital literacy skills are situated in provincial and territorial frameworks and curricula – and to highlight the innovative ways that teachers are helping their students develop the critical thinking skills that are central to lifelong learning and citizenship in the digital age. With your input, this section will continue to grow and evolve.
---
[1] Hobbs, Renee (2012). "Hobbs: Info literacy must be a community education movement"  http://www.knightcomm.org/hobbs-info-literacy-must-be-a-community-education-movement/
[2] This figure is based on models from the Report of the Digital Britain Media Literacy Working Group. (March 2009), DigEuLit – a European Framework for Digital Literacy (2005), and Jenkins et al., (2006) Confronting the Challenges of Participatory Culture: Media Education for the 21st Century. http://www.newmedialiteracies.org/files/working/NMLWhitePaper.pdf
[3] Jenkins, H. et. al. (2006). Confronting the Challenges of Participatory Culture: Media Education for the 21st Century. MacArthur; Chicago Ill. p 4.
[4] Combes, B. (2010). How much do traditional literacy skills count? Literacy in the 21st century & reading from the screen. http://www.slideshare.net/IASLonline/literacy-skills-challenged
[5] Martin, A. (2008). "Digital Literacy and the "Digital Society" in Digital Literacies: Concepts, Policies and Practices: Lankshear C., Knobel, M. (Eds.) New York: Peter Lang Publishing, Inc.
[6] Bertram C. Bruce (2002) in Jenkins, H. et. al. (2006). Confronting the Challenges of Participatory Culture: Media Education for the 21st Century. MacArthur; Chicago Ill. p. 19.
[7] Jenkins, H. et. al. (2006). Confronting the Challenges of Participatory Culture: Media Education for the 21st Century. MacArthur; Chicago Ill. p 20.
[8] Jenkins, H. et. al. (2006). Confronting the Challenges of Participatory Culture: Media Education for the 21st Century. MacArthur; Chicago Ill. p 4.
[9] International Society for Technology in Education (2007) iste.nets.s: Advancing Digital Age Learning. Iste.org/nets.
[10] Young Canadians in a Wired World, Phase III – Teachers' Perspectives at /english/corporate/media_kit/upload/YCWW-III-Teachers-Perspectives_EN.pdf
[11] Collier, A. (2011). "Making the Case for Digital Citizenship." Slideshare presentation. http://www.slideshare.net/annecollier/making-the-case-for-digital-citizenship-111104
[12] The Ministry of Education in New Zealand includes these elements for digital citizenship in its curriculum. http://elearning.tki.org.nz/Professional-learning/Professional-development/Digital-citizenship-modules/Digital-citizenship-and-cybersafety/What-is-digital-citizenship.
[13] Young Canadians in a Wired World, Phase III – Teachers' Perspectives at /english/corporate/media_kit/upload/YCWW-III-Teachers-Perspectives_EN.pdf
[14] Youth Infusion. "Continuum of Change". http://www.youthinfusion.com/
[15] Government of Manitoba, Ministry of Education, Citizenship and Youth (2006). A Continuum Model for Literacy with ICT Across the Curriculum. www.edu.gov.mb.ca/k12/tech/lict/index.html
[16] Ibid.