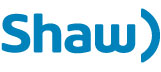 Shaw is a long-time supporter of MediaSmarts, both as a Founding Sponsor and through a benefits package stemming from Shaw's acquisition of Canwest in 2010. We were extremely pleased when Shaw built on this legacy support for digital and media literacy in Canada when it became our first ever Platinum Sponsor in 2015.
Shaw's support over the years has helped to fund our award-winning resources and programs that benefit Canadian children and their parents in the digital age.
On the Loose - New Guide for Post-Secondary Students: Launched in November 2016 this guide supports young adults who are experiencing both new freedoms and challenges in their post-secondary life.
Your Connected Life: A Teen's Guide to Life Online: Produced in 2015 with funding from Shaw, the guide is designed to help students who are just entering high school balance the demands of their offline life with their digital one.
In 2000, Shaw funded a Train-the-Trainer program in Alberta to support MediaSmarts' Web Awareness Workshop Series – a professional development program for K-12 teachers – licensed by Alberta Education for all schools in the province.